Introduction
Barcodes are everywhere in our lives, they're on almost every single product, box, pallet, shipping container and more recently through the coronavirus pandemic QR codes are seen at the entrance of every cafe, bar, and hairdresser. Despite the fact that we probably see a barcode every day of our lives, we get a lot of questions from small business owners and startups that have never before considered that they would need a barcode for their product. So I'm writing this article as a complete guide to barcoding in 2021 in the hopes that it can help educate people and dispel some myths surrounding barcoding.
Firstly, what is a barcode?
A barcode is basically a visual representation of a set of numbers, or ASCII characters depending on the type of code you're looking at. Below are some common types of barcode:
QR codes are 2 dimensional and therefore fall into their own category and not under the umbrella term of "barcode". However, you can find some more information about QR codes over here.
The 1D UPC-A was developed by George Laurer in 1971/72 whilst working at IBM. The code was developed for grocery stores to allow for quicker POS transactions. In 1973 the Uniform Grocery Product Code Council accepted Laurer's proposal and the UPC code was implemented. Since then, there have been many additions to the 1D barcode family that have allowed much more detailed information to be stored into the code. However, the basic structure and function of the barcode has remained largely unchanged.
What does a barcode do?
A barcode is a visual representation of a set of numbers. Every legitimate retail EAN or UPC barcode, or GTIN (Global Trade Identification Number), uniquely represents one product in the global marketplace. It is very important that every product and product variant have it's own unique barcode. The vertical lines you see are actually a visual representation of the numbers below. Each line of varying width and the spaces between those lines represent one of the numbers. When a scanner shines infrared light at the code, it 'reads' the reflected light, decodes the numbers and uses the last digit of the number sequence – called a check digit – to verify a correct read in a very short time. If the number is associated with any information in that scanner's database, that information is recalled. Product information must be manually associated with a GTIN in any given POS or warehousing scanner software database for the scan to recall information.
Barcodes such as the ITF-14, SSCC, and Code-128 are considered logistics barcodes and are used on outer cartons, pallets and shipping containers to track products through the supply chain.
The first order of logistics barcode is the ITF-14 or "outer carton code" usually placed on a logistics unit that contains multiple units of one or more products for shipping. An ITF-14 is never scanned at checkout or used to sell products to a customer. It is used solely in the tracking of products in the distribution chain. As the name suggests, the ITF-14 comprises of 14 digits, and is a superset of the EAN-13. The EAN-13 of the product is used to generate the ITF-14 on the shipping unit, the extra digit in the sequence represents the packaging level. For example, if you have a box of 20 units of your product, that box will have the packaging level indicator "1". If that box is shipped in pallets of 20 boxes, that pallet will have the packaging level indicator of "2". In this way, a scanner can scan the barcode on a pallet and recall "product A, 20×20 units".
SSCC (Serial Shipping Container Code) are a set of ASCII characters, usually encoded into a 14 or 18 digit 'code-128' barcode and are used for a number of advanced barcoding needs. For example, when a mixed lot of items from different sources and with different destinations are shipped together for convenience, that exact shipping container must be uniquely traceable. The DoP also use SSCC-14 & SSCC-18 barcodes for tracking parcels for delivery.
Retail Barcodes. GS1, resellers, what does it all mean??
To sell your product in the current retail market most retail outlets, as well as online retailers like Amazon, require your product to bear either an EAN-13 or UPC A barcode. This Globally unique number represents your product and will allow your product's movement to be tracked through warehouses and scanned at POS. This system has been in place since the mid 1970s and, despite recent developments with RFID technology, is still the prevalent system for stock management and POS throughout the world.
This means that if you are serious about your product(s) entering the marketplace then obtaining suitable barcodes to represent them should be one of your main considerations. There is a lot of misinformation and competing businesses all sparring for attention online, so one of the main focuses of this article is to clearly list the options for obtaining a barcode for your product including the pros and cons to each.
There are two main options when purchasing a barcode for your product:
1. Licensing from GS1
2. Purchasing outright from a barcode reseller
Option 1: Licensing from GS1.
GS1 are the global body who issue barcodes. Licensing codes from GS1 is costly, incurs an annual fee, and includes a lengthy sign up process. After this process, you will be issued with a company prefix, and be able to generate barcode numbers from this prefix. You will also be responsible for generating your own barcode images – a process that you can do yourself with barcode generating software or contract out to another company. If you require barcode images generated from your GS1 company prefix, we are happy to offer that service here at a fraction of the cost of our competitors.
There are advantages to purchasing codes with GS1. Purchasing barcodes from GS1 will guarantee you universal store acceptance. Retailers like Reliance, Big Bazaar & SPAR have agreements in place to only accept barcodes licensed directly from GS1. Additionally the primary method for brand ownership verification on Amazon's brand registry platform is the use of GS1's GEPIR database. If you qualify for the brand registry platform on Amazon then it is recommended to license your barcodes directly from GS1.
The third advantage of purchasing from GS1 is cosmetic only. GS1 India is the only company that can issue a barcode with the prefix 890. 890 is the GS1 India country prefix. It does not indicate where a product is made, nor does it indicate where a product can be sold. All EAN 13 and UPC A barcodes are valid for use globally.
Option 2: Purchasing Barcodes outright from a Barcode Re-Seller
This section will require a little history. In 2002 GS1 – who license EAN 13 barcodes on an annual basis – absorbed the UCC – who sold UPC barcodes exclusively in packages of 100,000 outright to their customers for a once off fee. GS1 opted to continue with their licensing agreement rather than honour the ownership of all UCC codes owned by UCC customers which resulted in a class action lawsuit. The outcome of this class action was that companies who bought their prefixes prior to August 2002 were considered the owners of their codes in perpetuity and not subject to the GS1 licensing agreements.
Due to the nature of the UCC agreement some companies who may have only needed 1 barcode had an extra 99,999 barcodes spare that had never been assigned to a product. These are the barcodes that are sold by reputable barcode resellers today. They fall under the UCC agreement which is that the barcode ownership is forever and ownership of the codes is legally allowed. This way, resellers are able to provide barcodes at a fraction of the cost of GS1.
Barcode resellers provide their customers with barcodes prefixed in the range 060 – 089 as these are UCC era prefixes. The UCC actually only issued UPC barcodes and to convert them to an EAN-13 format the '0' was added. This is a cosmetic issue only and has no bearing on where a product is made or where a product can be sold. All genuine barcodes are valid globally.
How many barcodes do you need?
Each GTIN or Barcode number represents one unique product in the world. This includes product variations like size, weight, colour, volume, style etc. For example, if you have two products: product A and product B and product A is sold in 3 different weights, while product B is just one weight then you would require a total of 4 barcodes to cover that inventory. The below example illustrates how two colours of polo shirts (BLUE and RED) at 5 sizes each require a total of 10 unique barcodes.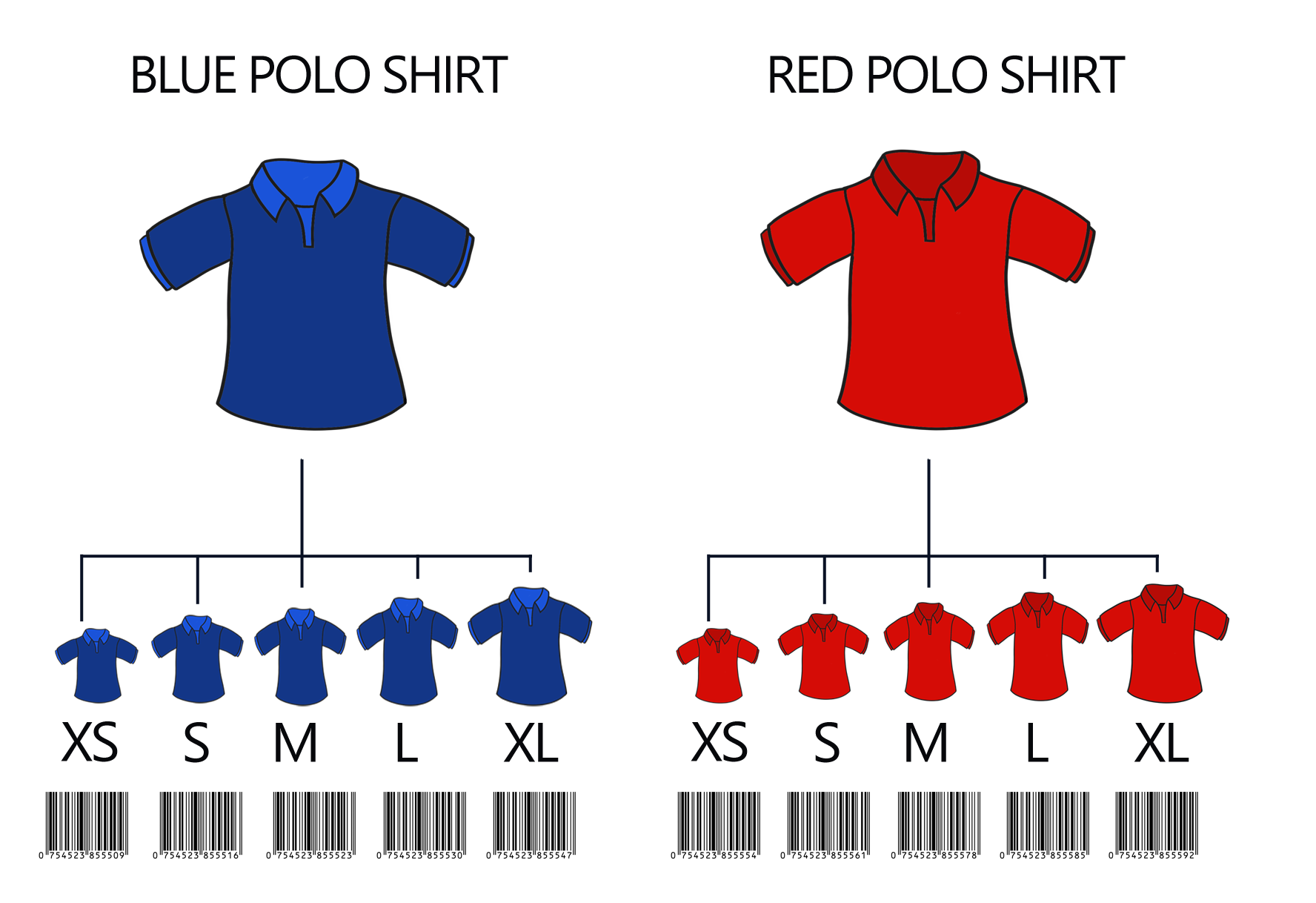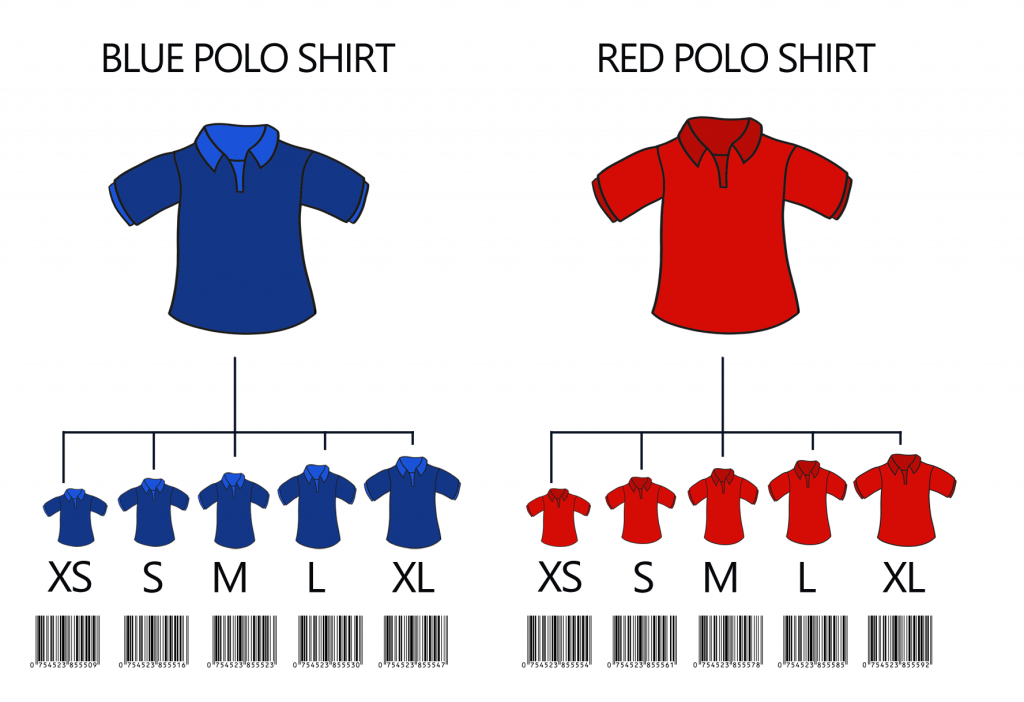 Obtaining your barcodes.
In section 2 above I covered the two main options for purchasing barcodes. In this section I will detail the methods used to obtain a barcode from either GS1, or a reputable barcode reseller in this case India Barcodes.
Obtaining a barcode from GS1:
GS1 license their barcodes to their customers on an annual basis and require ongoing payment to continue holding the license to use those codes which is why it is important to weigh up whether it is the right decision for your business. If your business requires GS1 licenced codes then you should navigate to GS1 India and click the 'Register for Barcodes' button from the 'Get a Barcode' dropdown menu. You will need the following information to progress:
– A PAN card for you or your business
– A copy of an audited balance sheet
– A letter on company letterhead requesting barcode alottment
– Proof of status of the applicant company ie GST/VAT statement, ROC, ROS or MOA
Then click on the 'Online Application' button and fill in your business email and PAN number.
You will have to complete a series of tabs, first 'Business Details' where you will be required to submit all the relevant documents along with your business address and contact details. Once this is all submitted the next tab is your personal contact details. After you have submitted your personal details you will be prompted to select the number of barcodes required. GS1 issues their clients with company prefixes of between 6 and 12 digits, a six digit prefix can generate up to 100,000 unique GTINs while the 12 digit is just for 1 barcode number. Remember to select enough barcode to cover your current product lines, as well as any other product lines you may introduce in the near future – this way you'll have enough barcodes in reserve to use when you need them.
The next tab is payment details, which is pretty self explanatory. You will need to pay the initial sign up fee along with the added fees based on how many years you have elected to license the codes for. After this you will see a confirmation window where you can go over your submitted details, make any edits required and then submit the application form.
GS1 advises that within one business day you will receive a welcome email along with your company prefix. You will have to log into GS1's 'datakart' service to generate your barcodes from the company prefix issued to you.
Purchasing your barcodes outright from a barcode re-seller:
Many businesses do not require GS1 issued barcodes and therefore choose this option as it is vastly more economical and requires a lot less effort to sign up. Obviously we always recommend that you research your businesses unique barcode requirements before proceeding with any purchase.
As detailed earlier barcode re-sellers are able to sell genuine EAN-13 & UPC-A barcodes at a one off cost. They also require much less information from your company. They also usually will be able to supply you with the barcode numbers, as well as high quality images within minutes of making the purchase. For this example I'll be taking you through the checkout process for India Barcodes.
Step 1: Navigate to https://indiabarcodes.co.in/buy-barcode-numbers
Step 2: Select the number of barcodes required by hitting the 'add to cart' button. If your business requires a unique number of codes not listed ie 37 barcodes you can contact us to arrange a special order containing the exact amount of codes for your requirement. Remember it is always a good idea to take into account any product lines you may introduce in the near future when purchasing barcodes. The price will be lower per barcode if you purchase in bulk and you are able to keep the 'spare' barcodes in reserve until you need them.
Step 3: Hit 'Checkout' and you will be taken to the purchase page. Here you will be prompted to fill out your details: Name (or company name) and email address. Please double check your email address is correct as this is the address your package will be sent to. Below the personal information is a secure payment section. You are able to make payment via any major Credit or Debit card through India Barcodes' 256bit encrypted payment gateway. Below this you will be prompted to enter your billing address.
Step 4: Read and agree to the terms and conditions and select 'purchase' to finalise your payment.
Step 5: Please wait up to 5 minutes for your package to be delivered to the email address entered. Please remember to check your spam & junk folders as sometimes automated emails can end up in there – especially if you're using a gmail account.
Barcode Assignment and Online Registration
So you've received your barcode numbers & images. The next step is to assign your barcode numbers to your products. If you licensed your barcodes from GS1 you can use their 'datakart' feature to associate your product information with your barcode numbers. If you have purchased your codes from a reseller you can use any free online barcode database like GTINlookup to associate your barcode numbers with your products.
Wherever you have sourced your codes from you are responsible for keeping track of your assignments and we recommend that you keep a spreadsheet that details your barcode numbers and product assignments – even if you have submitted the barcode details in an online database such as datakart or gtinlookup.
To register your products on GTINlookup please follow the instructions below.
Step 1: Navigate to https://gtinlookup.org
Step 2: Click on 'Submit a GTIN'
Step 3: Fill out the form with the relevant details and make sure everything is correct before submitting. Listings cannot be updated once submitted however if you have made an error, you can request that the webmaster correct it by submitting a request to [email protected].
Please note to correctly submit an image, find the image online ie on your website and right click the image then select 'open image in new tab'. You should see a black background with the image on the page. Copy this URL and paste it into the image url field on GTINlookup.
Barcode Size & Colour Guidelines
The next step in the process for successfully barcoding your products is to conform to international barcode size requirements and also select appropriate colours for your barcode so that it will scan correctly. Barcode images are usually supplied at SC2 or 100% magnification: 25.93mm x 37.29mm. You are able to reduce the image size down to SC0 or 80% magnification: 21.25mm x 30.51mm or increase the size up to 200% magnification: 51.86mm x 74.58mm without affecting scannability. It is important when altering the barcode image size that you alter the height and width proportionally. Also take care to never cut out the white space around the barcode. This white space is known as the 'quiet zone' and is a necessary part of the image as it tells the scanner where the barcode 'starts' and 'ends'.
The best colour combination for a barcode is the standard black over white which we see almost exclusively in the retail marketplace. Colourisation of a barcode is possible but because a barcode scanner uses the reflection of infrared light to decode the bars there are some colour combinations that cannot be used. Generally speaking if you have dark bars over a light background the code should scan fine with the exception of colouring the bars red or yellow as a scanner will read these colours as 'white'. See examples of scannable and non-scannable colours below.
Scannable Colour Combinations
Non-Scannable Colour Combinations
Some retailers will require you to obtain a verification report for your barcode artwork. A verification report basically tests a printed barcode by scanning it from a range of distances and angles and rates the scannability of the barcode with an ISO (International Standards Orginisation) score of 1 to 4 with 4 being the highest possible score. If you require a verification report for your products then you must conform with the size & colour guidelines detailed above.
Printing Your Barcode
Once you have adjusted your barcode image digitally you now have a number of printing options to consider. The most efficient way to affix your barcode to your product is to include the digital image on your artwork proofs before sending the packaging to be printed. This method gives you full control over the placement of the barcode on your packaging as well as size & colour options that will help the branding and overall look of your product. To do this you will need to take one of the images we have supplied (EPS, JPEG or TIFF) and include it in your artwork proof design. If you or your graphic designer use the EPS layered file then the OCRB human readable font included with your barcode package will need to be installed on the computer used to open the EPS file.
There may be a number of reasons why you cannot include the barcode image on your product packaging. If your packaging has already been printed or if your product comes in a clear plastic wrap then you will need to affix your barcode in another way. The second most popular method is to print stickers of your barcode. There are two ways to do this:
1. Contract a professional printing company to print off rolls of sticky labels. This method would be most useful for businesses with a small product range and large quantities of units sold as most rolls of barcode stickers would come with a minimum of 1500-1000 stickers.
2. Use a barcode label printer like a Brother TD-4000, DYMO LABELWRITER 4XL MACHINE LW4XL or Zebra GC420D to print sticky labels on a need basis. This option would be most suitable for businesses who have a large product range and low turnover of units sold as you are able to print off stickers as needed.
Introducing Your Product to Retailers
Barcodes themselves do not hold information, they are simply a visual representation of a globally unique number that represents a product. Once you incorporate your barcode into your product's artwork, labels the barcode number has already begun doing it's job of representing your product in the supply chain.
When you supply your product to a retailer, you may be required to complete a product information form linking your product and company details to the barcode number. The retailer will transfer this information into their sales & inventory system allowing your product to be scanned at POS. This process is required every time you introduce your product to a new retailer.
Some companies falsely advertise that their databases allow your product information to be globally available in retail stores but the simple fact is that almost every retailer has their own internal database of products linked to their POS system. Nine times out of ten you will be required to complete this process of supplying your product information to your retailers no matter where you purchase your barcodes from.
Introducing Your Product to Online Retail Spaces
Many people use online retail outlets like Amazon, FlipKart & eBay to sell products. There are numerous articles online about how to register your products on these platforms so we will not cover it in this one! If you have any questions about online retail barcoding please feel free to get in touch.
Complete!!
Your products and barcodes are now ready for the retail space! We wish you the best of luck and hope that this article was helpful. If your company needs barcodes or advice on barcoding please feel free to get in touch and we will be happy to help in any way we can.